Today's post is by Mrs. 295Bus.
The other day I was riding around my neighborhood on my bike with a camera. I have the (in my opinion) misfortune to live one block away from Atherton, a township with super-rich residents. The minimum size of a housing lot is one acre, and in the Bay Area, that's unusual. There's also absolutely zero commercial zoning, nor do they have a public school. I don't know how they swing that legally, but they do. I live in your typical middle class suburb; it's an immediate transition from regular folks to the likes of the CEO of Google.
So here's my bicycle tour of Atherton.
First, they have this sort of nonsense. I'm convinced it's so you can't give easy directions so it cuts down on the riff raff.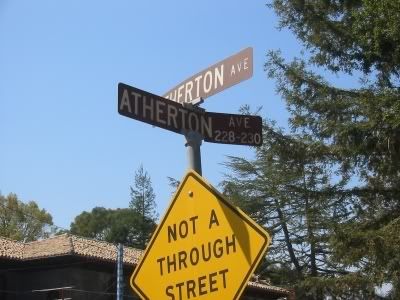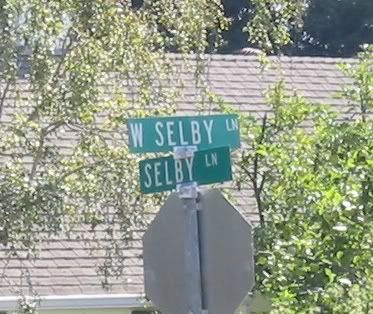 Oh look, it's greenery recycling day! They get pickup once a week in Atherton, which is a good thing, because it takes this many containers to clear those lawns of pesky leaves every week. To be fair, this is for two houses, so that's only 6-7 containers each per week. We barely fill up one container every two weeks, and we have a big oak tree in our yard.

Then there's the creative folks, like these people, who have TV screens in their outside property wall. They turn them on at night - I've seen vacation photos, regular TV shows, and weird art shots of bloodshot eyes. Oddly, all the TV screens have been bombed by birds. Why? A mystery for the ages.
See? It's a pretty house, except for the color. It's not really showing how putrid it looks in person in this picture. It's stucco - yellowish, greenish, brownish stucco.
Now here's a little fixer-upper.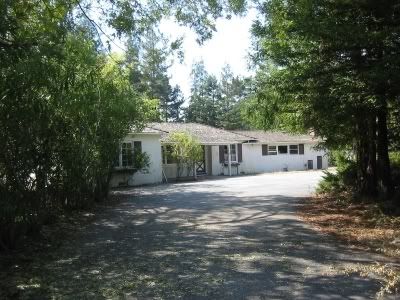 You can't really see it in the picture, but the windows are broken out and it's obviously been abandoned for a long time. Gotta love the fake timber x's and all that. What would you pay for this little home improvement project?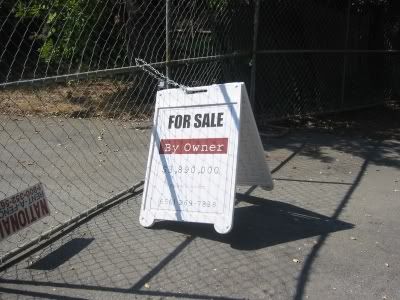 A cool 3.9 million and it's yours. It's not like this is on the bay, or the Pacific, or even on top of a hill. There is no awesome view, it's just a big lot on a quiet street, in the "right" neighborhood.
Construction is always going on in Atherton. There's more home improvement permits issued in Atherton than there are lots. On this bike ride I passed seven of those portable taco trucks -- I counted. There's that many crews at work on any given day.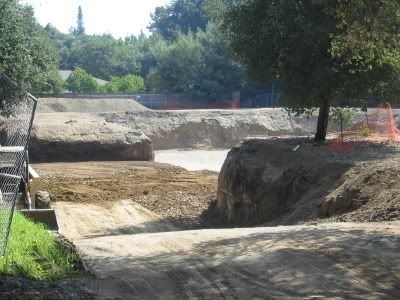 The funny thing is you're probably thinking this is for a basement, right? Well, basements are pretty rare in California, but I have seen this more than once in Atherton. My guess is that this is for the underground garage. Probably so that the owner can house his or her classic car collection.
So a little closer to the polo fields is this little gem, which made me laugh out loud. It just looked funny to stick some cheap patio furniture in the middle of a vacant lot, but I suppose it makes sense. The realtor has to have somewhere to sit on Open House day.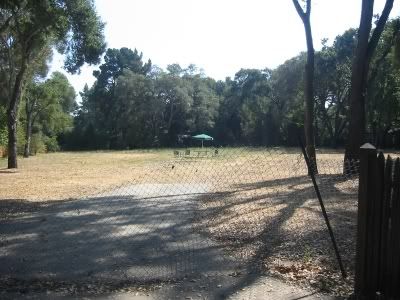 How much would you pay for this landlocked, middle-of-nothing-special lot? There's plenty of room for your 10,700 square foot dream house. You'll only have to be paying property taxes on this amount, though: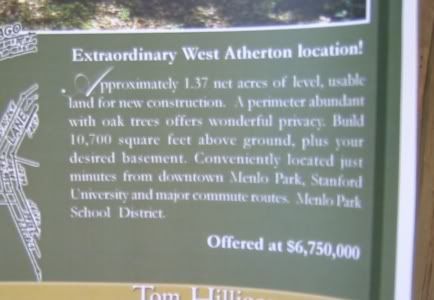 I can't diss Atherton, though, because it gives me a flat, nearly carless place to ride my bike as fast as I want. Wee!